the unOfficial Kuch Kuch Kuch Hota Hai homepage.......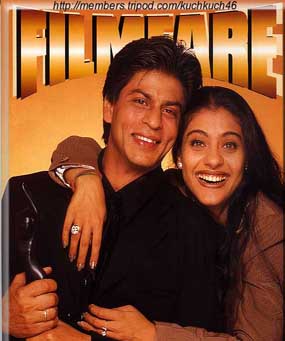 .......And then came the moment that everyone was waiting for. An insistent beat pounded through the arena. A steel cage descended slowly. The door opened. A slim figure stepped through. And then, the distant hoot of a train......instant replay of a much-vaunted sequence. Shah Rukh Khan danced on the roof of the train carriage, Malaika Arora swayed on stage. The audience screamed in delight to the chorus of Chhaiyan chhaiyan from Dil Se. And continued singing along when Rani Mukherjee and the winning Khan-man recapped their now-famous Koi mil gaya from Kuch Kuch Hota Hai. Which set the mood for the finale. The film, Kuch Kuch Hota Hai, swept the popular awards - best supporting actor and actress, best actress, best director and best film. (excerpt from the filmfare website)

click on the images below for excellent resolution pics!!
KARAN JOHAR
(Best Director - Kuch Kuch Hota Hai)

"This is my first award, and winning it has been very special. I couldn't have asked for a better producer (Yash Johar). But I think I have a better father. This award for best director will always be very special to me, this being my first."
Filmfare Awards for the year 1998
Best Film
Kuch Kuch Hota Hai
Best Director
Karan Johar
Best Actor
Shah Rukh Khan
Best Actress
Kajol
Best Supporting Actor
Salman Khan
Best Supporting Actress
Rani Mukherjee
Best Screenplay
Karan Johar
Best Art Direction
Sharmistha Roy
For more details goto The Filmfare Site
Lux Zee Cine Awards Page here!!


----Navigation----
home gallery wallpapers music video links feedback news about me
site maintained by tanmay patwardhan